Ramiz Merko, the local sheriff is the Mayor of Struga for the third time. In the period from 2005 to 2013, Merko fulfilled two mandates as the head of Struga. Then he moved to university waters from 2013 to 2014, and already in 2014 he became a member of the Parliament of the Republic of Macedonia. In 2017 he was appointed Minister without portfolio in the Government of the Republic of Macedonia in charge of foreign investments. The same year he won the local elections and returned to the mayoral seat again.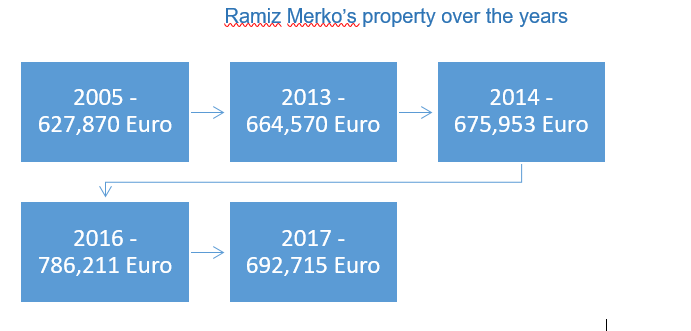 Ramiz Merko's property over the years
Ramiz Merko's property has varied over the years with an increase and decrease of 30 to 100,000 Euros. He owned the largest property of 786,211 Euros in 2016, as an MP in the Assembly of the Republic of Macedonia, and the smallest, of 627,870 Euros in 2005, when he became the Mayor of Struga.
Today Ramiz Merko owns a property worth 692,715 Euros consisting of personal property and a spouse's item in the form of a claim on a 14,000 euro loan. On his name there is a business premises, two agricultural lands, a house and a forest, all in Struga, as well as an apartment in Durres, Albania. Merco also has a claim on his behalf for a loan of 29,268 Euros, a land lease agreement, a rental income as well as foreign currency and denar accounts. The value of Ramiz Merko's property amounts to 1,051,545 Euros and is calculated according to the data published on the website of the State Commission for Prevention of Corruption.
The Mayor of Struga was suspected of working illegally and against the public interest, spending the municipality's money in a non-transparent manner. Therefore, the Commission for Prevention of Corruption initiated criminal proceedings against him. Ramiz Merko was in the public eye after the news had been published that he had bought a luxury vehicle worth 70,000 Euros.